Q. Why should we have our records stored and managed off-site?
A. Outsourcing your data storage with Hansen Records Management allows you to free up valuable space and focus on what you do best. Hansen provides off-site storage of your documents with a high level of security.

Free Inital Transfer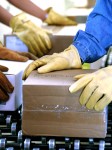 Hansen Records Management will transfer all containers from your present storage facility to our records storage facility free of charge.