Q. How fast can we get our data and will you retrieve the data for us?
A. Hansen Records Management offers rush delivery service within two hours Monday through Friday from 9 AM to 5 PM. Emergency service is available after hours. Standard delivery requests will be delivered the next business day. Hansen Storage can also scan and e-mail or fax files if you choose.

Free Inital Transfer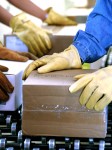 Hansen Records Management will transfer all containers from your present storage facility to our records storage facility free of charge.